March 3rd 2006
Mental Disorder is a free WordPress 2.0 theme created for the 2006 WordPress 2.0 Theme Design Competition.
The theme is released under the GPL License. Feel free to download and use it, but please do not remove any credit notes.
If you have any questions, please do not hesitate to contact me.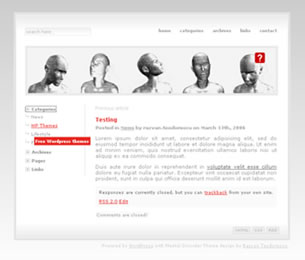 Download:
Requirements:
Wordpress 2.0 installed.
Installation:
1. Download the package.
2. Unzip.
3. Upload the folder mental_disorder on /wp-content/themes/ folder on your WordPress installation.
4. Login to your WordPress administration section, and select (active) Mental Disorder theme under Presentation menu.
5. Enjoy it!
Changelog:
02/24/2006 – Version 1.0 – Initial release!
03/13/2006 – Version 1.2
183 comments
Leave a comment