August 21st 2006
On August 20, 2006, Cleopatra Stratan, this amazing 3-year-old girl had her first concert (20+ songs) and she's about to get into Guinness Book as the youngest artist to record an album and have a live concert.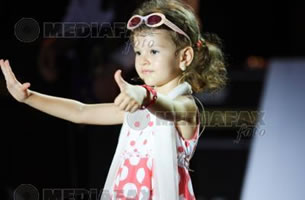 Cleopatra started her first concert saying: "My name is Cleopatra Stratan and even though I am only three years old I am determined to sing you both songs from my album called "La varsta de trei ani" and from my father album called "Amintiri din copilarie". I will make my debut with this evening."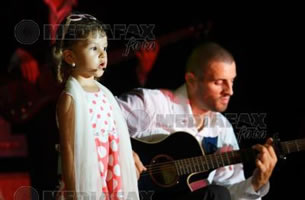 The concert was limited to 400 people and Cleopatra Stratan was accompanied on guitar by her father; singer Pavel Stratan (a top Romanian artist)
You can find some pictures from the concert here and you can see the clip of Ghita song here!
157 comments
linda h. (usa) says:

i just recenlty found the video of cleopatra stratan singing ghita on the net and i must say i only speak english and even though i don't understand her language i enjoy listening to this little singer so much that i listen to it over and over..she is absolutely wonderful!!! horrah for you cleopatra!!!

January 7th 2009 at 4:57 am

SasquatcH says:

fetita talentata !!!

February 5th 2009 at 8:32 pm

viorel says:

cea mai talentata fetita!!!!!!!!!!! bravo. tineo tot asa, moldova se mindreste cu tine. it itinem pumnii pentru mai departe. SUCCES

March 22nd 2009 at 8:57 pm

Ileana says:

Esti gingasa, inteligenta, talentata si frumusica foc. Sper sa fii cat mai ocrotita si sa te bucuri de copilaria ta. Sa fii fericita, asa cum ne faci fericiti pe noi cu inocenta si talentul tau!
Dumnezeu sa te ocroteasca pe tine si pe familia ta si neamul nostru romanesc (desigur, cu tot cu dragii nostri moldoveni)!

May 12th 2009 at 2:19 am

defne says:

super bravo!!!!!!!!!!!!!!!!!!!!!

September 5th 2010 at 4:42 pm

denisa says:

oau esti foarte buna la citat cleopatra la Intro siara cu costica eu cu stlicla evro stlica aaamudat cu mIna noa stra florile din feriastra Inrest ceoramas In stlica iam turnat si lui pisica dar nusti floaria ceo fi simte dar pisica da nu cItA asta

January 5th 2011 at 12:21 pm

Gyula says:

Bravo, bravo precious little angel!

Gyula from Hungary

March 15th 2012 at 9:07 pm
Leave a comment