October 2nd 2006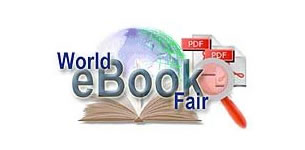 The World eBook Fair is an internet event with the duration of 1 month, providing access to 500.000 eBooks that can be downloaded for free for the month of October, International Book Fair Month.
This event is brought to you by the oldest and largest free ebook source on the internet, Project Gutenberg, with the assistance of the World eBook Library.
The World eBook Library normally charges $8.95 per year for online access, and allows unlimited permanent downloading. During The World eBook Fair 500.000 eBooks are available free of charge.
Covering over 100 languages and plenty of topics, there are ebooks for everyone's taste. There is only 1 month to take advantage of this promotion so go visit WorldeBookFair.com and start downloading eBooks.
One comment
victor says:

For everyone's info, we at Bookyards ( http://www.bookyards.com ) have also compiled a good collection of digital libraries with books available for downloading for free. Just go to Bookyards "Library Collections – E Books" at http://www.bookyards.com/links.html?type=links&category_id=1780
There are approximately 550 digital libraries separated alphabetically and by category, with over 300,000 unique ebooks

October 3rd 2006 at 3:41 pm
Leave a comment