February 28th 2006
I like fish very much! I like booth saltwater fish and river fish. I like fresh fish and also canned fish. I tried almost every kind of canned sardines on the Romanian market (made in Romania or imported). I finally came to a conclusion:
Ladies and gentlemen's let me introduce you the best canned sardines on Romanian market: Bab Mansour.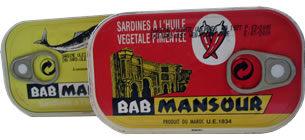 These canned sardines are made in Morocco and come in two flavors:
Bab Mansour Canned Sardine Fish in vegetable oil and spices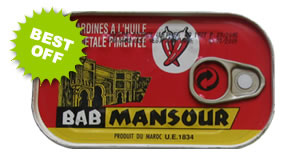 Bab Mansour Canned Sardine Fish in vegetable oil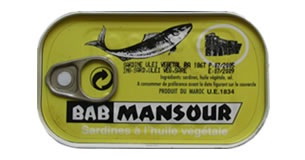 First one is very spicy (it contains a red paprika in the can) and it's my absolute favorite one. The second one is almost the same, but without paprika – no spicy here.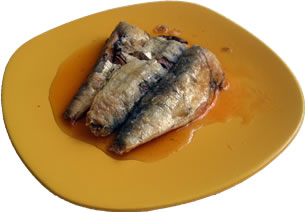 These sardines are pretty hard to find in little stores. I only find it in big supermarkets like Billa and Cora.
So if you eventually come to Romania and wish to eat some good canned sardines (Hmmm – why anybody should do that!?), you definitely should try Bab Mansour!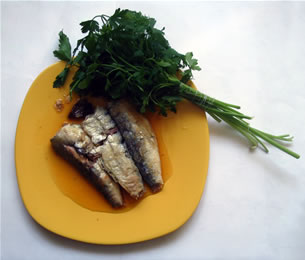 Bon appetite!
2 comments
samer says:

Dear all
I'm Samer Dalati I have Joudi company in Damascus (Syria).
I need to have buseniss with ur company because I need to import sardines from your co..
and this is the details
1- net weight: 125g
2- Ingredients: sardines, soya oil salt
3- 600 000 pieces
4- 600 000 pieces for spiced sardines
I hope to sene me the price as soon as
and please your phone numbers
thanx for your interesting
Samer Dalati
Mobile:00963-955556305
Telefax:00963-11-5116176
Email:samer.da@hotmail.com

February 26th 2008 at 1:16 am

cherry says:

Dear all,
my name is cherry from a company named xiamen gulong canned food co.,ltd,(China) which is a large and reliable manufactory of canned food,the canned sardines includes.if you interested in importing canned fish,we believe our good quality and spicy fish will be a prefect choice.
the specification of our canned fish now available are as below:
125g,155g,240g,425g
contacts:
T:86-592-2979232
M:86-13616046510
F:86-592-2960118
EM:gulongxiamen@163.com

April 24th 2009 at 9:10 am
Leave a comment