March 21st 2006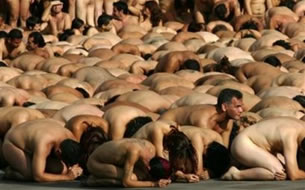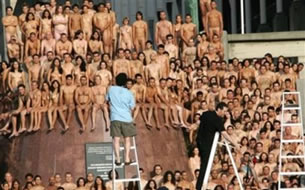 More than 1500 Venezuelans shed their clothes on the avenue Bolivar in downtown Caracas, Sunday, March 19, 2006 to pose for American photographer Spencer Tunick, forming a human mosaic in front of a national symbol: a statue of independence hero Simon Bolivar.
For the volunteers, being part of Tunick's art meant letting go of inhibitions and enduring a two-hour series of sometimes uncomfortable positions on the pavement. They posed standing, lying down and on their knees as the warm Caribbean sun emerged on the eastern horizon.
Spencer Tunick, an artist from Brooklyn, N.Y., has photographed and filmed masses of people in the nude in dozens of public places from Finland to Australia.
The artist, who has been arrested multiple times while shooting in the United States, said he was happy to have darker-skinned subjects. Most Venezuelans are considered mestizo, a mix of Spanish, African and indigenous bloodlines that gives many a brown skin tone.
Tunick said each volunteer will receive a print of the installation.
8 comments
emma says:

:oops::oops::oops::oops::oops::oops::oops::oops::oops::oops::oops::oops::oops::oops::oops::oops:

Oh mY Gosh I m so embarrased. Is he crazy or insane? How could these people give him what he demanded?

March 25th 2006 at 11:36 am

Constantin COCIOABA says:

🙂

March 30th 2006 at 2:18 am

Fed says:

I don't want to believe that these people are not paid

April 12th 2006 at 1:47 pm

ALFONSO says:

I WAS THERE AND IT WAS GREAT, AN UNVELIEVABLE EXPERIENCE. I FEEL I WAS BORN AGAIN!:lol:

April 13th 2006 at 1:40 am

firak says:

stupid people ?
so embarrased..
they dont belive a god

May 13th 2006 at 12:10 pm

Teo.eSuper » Naked in Dusseldorf says:

[…] See also You can leave a comment, or trackback from your own site. RSS 2.0 […]

August 9th 2006 at 6:30 pm

Ibrahim Bisharieh says:

I am very proud to watch all those venezuelians getting full nude in the public places,it is rally marvelous. As I am broadminded,very liberal guy,I like to take off all my cloths being completely nude in the public places since it is some kind of pleasure,we you are naked you feel that you are free from any burden,you are free to de whatever you like freely without any restrictions especially when you see males and females also fully naked,I can describe this as the paradise of human being.
Please keep this comment as a secrect confidential issue between me and you.
Thanks and best regards.
Yours Faithfully,
Ibrahim Bisharieh

October 26th 2006 at 10:59 am

dianne says:

lol, this sure is weird!

April 27th 2011 at 4:55 pm
Leave a comment